Fresh Spring Styles are at Woven Hope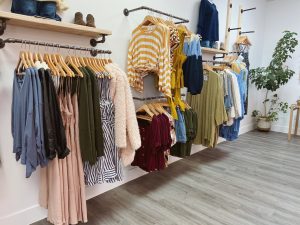 Our new women's clothing boutique Woven Hope, has now been open 6 full months. The positive feedback from our customers has been overwhelming and has left us extremely joyous and excited about the future of Woven Hope.
The store had a successful Fall and Winter season, gaining the attention of many new local shoppers in Lenawee County. The growth of our boutique continues, as we see a steady increase in our store foot traffic. Many of our customers have heard of us by word of mouth, through social media, or are loyal returning customers we have gained from our resale store.
We are excited to announce the arrival of our new Spring merchandise at the store! To coincide with our new arrivals, we are hosting our first Saturday "Sip & Shop" event on March 21st from 10 am – 4 pm! We will be providing drinks and various snacks like food items for our shoppers to enjoy while they socialize and peruse our new items.
Woven Hope has many exciting future plans for the new season. We are teaming up with Adrian College to speak in classes, network with students, and participate in campus events. Facebook, Instagram, and email continue to grow and have proved to be our biggest outlet in releasing the latest news and updates.
We would mostly like to give a big thank you to all of those who have stopped in to shop and support us while giving back to the ministries of Neighbors of Hope! Thank you!
Kendra Palmer
Store Manager, Woven Hope