Blessings & More Resale Store Will Reopen at New Location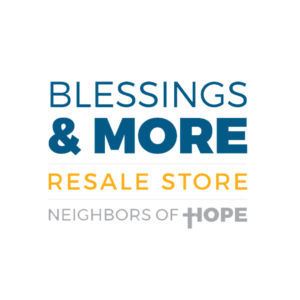 Neighbors of Hope is pleased to announce the re-opening of the Blessings & More Resale Store. The new location will soft launch and be open to the public on Wednesday, May 3rd, 11 am – 5 pm at its new location in Downtown Adrian – 117 E Maumee St, Suite 100. The Grand Re-Opening event for Blessings & More takes place on Monday, May 8th, 11 am – 2 pm.
Select, quality donated items will continue to be accepted at our Donation and Recycling Center located at 423 W Maumee Street. These items are sorted, processed, and prepared for resale in the new location downtown. Items unable to be resold are incorporated into our recycling program Neighbors of Hope operates within the center. Your donations to Blessings & More will continue to bring hope to the addicted, homeless, and hungry in Lenawee County through the ministries of Neighbors of Hope.