Blessings & More Retail Store Transitions to Donation Center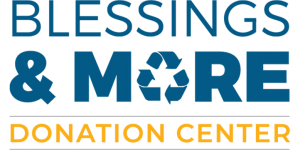 Our thrift store is undergoing a transformation in order to serve our customers better. We will continue to accept donations at our Maumee Street location as we always have. These donations will provide needed clothing and accessories for men, women, and children from Neighbors of Hope's programs as well as other local non-profit organizations. We will also continue baling and recycling goods donated to help fund the ministries of Neighbors of Hope.
Our retail store will take a temporary sabbatical to allow us to find a new location in Adrian. Please stay tuned in 2020 as we explore spaces and join us in praying that we will find a storefront that better suits this ministry. In the meantime, please continue to drop off your used clothing, bedding, accessories, and home goods which we will share or recycle. Your donations to Blessings & More will continue to bring hope to the addicted, homeless, and hungry in Lenawee County through the ministries of Neighbors of Hope.