Neighbors of Hope Bringing Comedian Ross Bennett to Tecumseh this Spring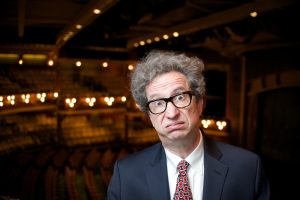 Neighbors of Hope will bring back the laughs this spring as they host their 2nd Annual Comedy Night. The live comedy event is planned to feature Ross Bennett, a nationally renowned comedian who has appeared on Comedy Central, A&E, and The Late Show with David Letterman.
Ross discusses a wide variety of topics drawn from a life full of experiences ranging from his growing up with a father who was a Marine Colonel, to grade school snow days, to middle age medical procedures. The event will be held on April 9, 2022, at 7:30 p.m. at the Tecumseh Center for the Arts. The family-friendly event will raise funds for ministries of Neighbors of Hope, including the Riverside housing project for its Men's Ministry facility in Adrian, Michigan.
"I'm so excited that Ross Bennett will be part of our fundraiser," said Steven Palmer, executive director of Neighbors of Hope. "Ross brings clever and clean humor that is family-friendly, politics-free, and excellent for connecting laughter with the healing process of recovery. We hope that families will join us for this fun evening that will help us raise money to bring hope to the addicted, homeless, and hungry right here in Lenawee County."
Tickets are available at the Tecumseh Center for the Arts box office, either online at thetca.org or in person during regular box office hours at 400 N. Maumee in Tecumseh.
"So many have asked how they can continue to help our ministry rebound from the economic impact these past years of the pandemic have had on us," stated Palmer. "This is one way you can help. Plan a fun evening with your loved one, knowing that the proceeds go towards helping your neighbors."
Examples of Ross Bennett comedy: